Quality Assurance for Ship Handling Simulation at the WSV
From BAWiki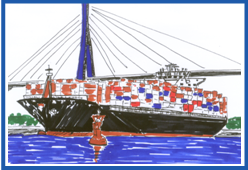 On these pages you will find documentation and suggestions for the preparation of bids for ship handling simulation in response to tender notices issued by the German Federal Waterways and Shipping Administration (WSV). In future, the WSV intends to link the allocation of contracts for the dimensioning and navigability analysis of navigable sea waterways to the previous execution of project-related test procedures and accompanying sensitivity studies. This is not a matter of acquiring a ranking of the existing simulator operators, but of quantifying the prediction quality of a simulator for the task at hand. The main advantage of introducing these test procedures is this: not until the possible error variance is known can a conclusion be correctly interpreted and evaluated. The result of the test procedures forms part of the allocation procedure.
Although the test procedures will each time be adapted to the current issue, there is a large section with basic characteristics which may be repeated in every tender. In this way, additional outlay for participation in a specific tendering procedure can be kept to a minimum.
On this page, we offer simulator operators the possibility of carrying out this preparatory work for preparing a bid for a tender notice issued by the WSV for the allocation of contracts without pressure of deadlines. The necessary data for production of (own) ship models, selected navigation areas and tables for preparation of the results is already available for downloading.
For carrying out the test procedures it will not be necessary to prepare graphic work; nor are external views of ships or visualisation of the shipping area required for the visual system. The objective is to achieve jointly the clearest possible picture of the prediction accuracy of the navigational dynamics produced by the simulator for channel navigation.
Documents and Data for Your Information

General remarks on the test procedures foreseen for the preliminary stages of a simulation and the data for producing the required ships.
Some SECs (special electronic charts) of navigation districts with, in some instances, high-resolution bathymetry. These maps will be used in the context of an invitation to tender.
Note: Amend the ending of the file name to suit your map viewer.
---
back to Ship Handling Simulation
---