NCPLOT: Min Water Depth
From BAWiki

This page illustrates the effect of the control parameter "Min_Water_Depth" of the steering file NCPLOT.DAT.
Data at places with low water coverage can be excluded from the presentation by using the parameter "Min_Water_Depth".
In comparison with the current total water depth the value "Min_Water_Depth" is used additionally to distinguish "valid" and "invalid" data. In case of Min_Water_Depth = 0.0, the data are used in respect of valid or invalid values exactly as they exists in the CF NetCDF file.
The method works only on variables that have a variable with the standard name "sea_floor_depth_below_sea_surface" as "ancillary_variable". The CF-NetCDF output of UnTRIM programs fulfills this requirement.
Impact of Min_Water_Depth on the presentation
Areas with a current water coverage less than the specified "Min_Water_Depth" value are treated as "fallen dry". Existing "valid" data at such a place become "invalid" and are not shown. This method usually improves the appearance.
Visualization of the original UnTRIM results
Min_Water_Depth = 0.000 m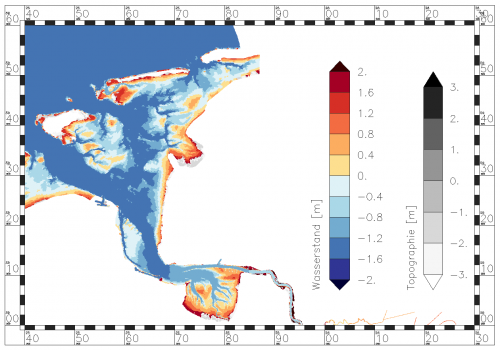 Visualization with Min_Water_Depth > 0.0 m
| Min_Water_Depth = 0.010 m | Min_Water_Depth = 0.025 m |
| --- | --- |
| | |
| Min_Water_Depth = 0.10 m | Min_Water_Depth = 0.25 m |
| --- | --- |
| | |
---
back to NCPLOT.DAT